Welcome to Advanced Spinal Correction!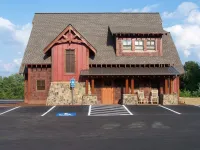 Serving the communities of Western North Carolina and North Georgia, Advanced Spinal Correction, located in Hayesville, NC, is committed to bringing you the latest in Health and Wellness. Combining skill and expertise that spans the entire chiropractic wellness spectrum, Dr. Robert C. Peck is committed to bringing you better health and a better way of life by teaching and practicing the true principles of chiropractic wellness care.
Patients seeking treatment at Advanced Spinal Correction with Dr. Rob are assured of receiving only the finest quality care through the use of modern chiropractic equipment and technology, Dr. Rob, and the staff of Advanced Spinal Correction have a genuine concern for your well-being!
If you are new to our website, please feel free to discover and learn about chiropractic wellness. If you are interested in starting your journey towards wellness please subscribe to our award winning newsletter. If you are already a newsletter subscriber, please explore the member wellness section of our website for wellness articles, resources, and health facts---specifically targeted by Dr. Rob to your wellness needs and interests.
It's Your Life... Live it in Health!
Dr. Robert C. Peck
Hayesville Chiropractors | Advanced Spinal Correction
828-389-1234
DID YOU KNOW...
Advanced Spinal Correction offers the latest in
Non-Surgical Spinal Decompression
If you suffer from chronic low back pain, sciatica, herniated/bulging/ruptured discs, failed back surgery or spinal stenosis, you may be a candidate for this very effective, non-invasive, non-surgical procedure.
CALL TODAY to schedule a Complimentary Consultation!!!
---
Advanced Spinal Correction is excited to announce its partnership with the
Young Harris College Athletic Department
Helping Bring Optimal Health and Performance to the Student Athletes of
Young Harris College through Sports Chiropractic
GO MOUNTAIN LIONS!!!